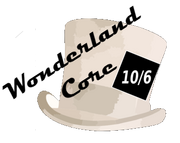 Wonderland Core is a US government organization that seeks to manipulate the Fears for the benefit of all mankind as well as their own personal gain. It is led by two unidentified men known only as The Brothers Grimm who are suspected of being supernatural entities themselves. The only member who is allowed to meet with them is their personal assistant, The Storyteller, the operative that assigns missions to agents and collects information on The Fears. The Brothers Grimm are particularly interested in Jack of All, whom they want to make a deal with.
Agents of Wonderland Core
Every field agent of Wonderland Core is named after a fairy tale character.
Codenames
Wonderland Core designates all of the Fears and UXPs after characters from the novel Alice in Wonderland and it's sequel Through the Looking-Glass. They are collectively referred to as The Guardians of Wonderland.
Ad blocker interference detected!
Wikia is a free-to-use site that makes money from advertising. We have a modified experience for viewers using ad blockers

Wikia is not accessible if you've made further modifications. Remove the custom ad blocker rule(s) and the page will load as expected.