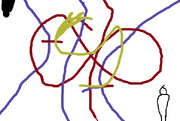 The Parallels
is a series of forum games by
DJay32
, inspired by
RubyQuest
and
the white chamber
, and a part of
Topography Genera
. So far, it has only had one complete game:
Technology of the Foreigners
, but a second,
Bright in the Face
, is under development. The games focus on the motifs of parallel action and specular reflection, among other things.
Technology of the Foreigners
The Parallels: Technology of the Foreigners was a forum game based on a series of Between the Buried and Me songs. Players took control of "L2 and L1," or Flora Penda Lenda and Liek Rale, respectively, code-named after the L2/Sun and L1/Moon. It's a double-reference, as L2's arc is based on the song "Sun of Nothing," and L1's is based on "Swim to the Moon."
The story started with both protagonists isolated, and ended up with both of them stuck in eternal hell. A record of its tale can be found here.
Bright in the Face
The Parallels: Bright in the Face is a forum game based on original stories, taking inspiration from the genre of psychological horror flash games including REDDER, Time Fcuk, Bright in the Screen, Submachine, Gateway, and The Dream Machine. It plays on the themes and conventions established in the first game. Players take control of "F2 and F3."
The game is currently ongoing, and can be played here.
Ad blocker interference detected!
Wikia is a free-to-use site that makes money from advertising. We have a modified experience for viewers using ad blockers

Wikia is not accessible if you've made further modifications. Remove the custom ad blocker rule(s) and the page will load as expected.