The Fear Mythos is an open-source writing community spread over countless blogs, vlogs, creepypasta, canons, games, role-playing sites, and audio plays. Newcomers to the Mythos should check out the Wiki Rules, the manifesto, the Facebook group, forum, and the Beginner's Guide to the Mythos. Otherwise, feel free to jump right in and show us your stories!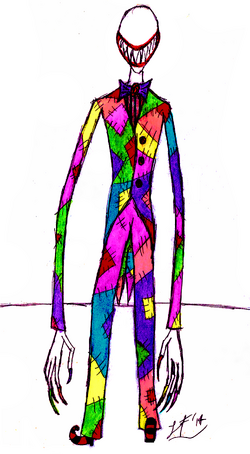 The Merryman is the first portrayal of the Fear of the Irrational; it represents impulse, the extreme, and the pursuit of joy.
The Merryman causes those who see it to express the physical signs of extreme and often outrageous joy no matter what their current mental state is. Victims of him often find themselves experiencing manic laughing fits followed by bouts of depression as he drains the victim's ability to feel happy the longer a person is exposed to him. Exposure to the Merryman's laughter itself can cause hallucinations, bouts of extreme mania, and the sense that reality itself is unreal. Once he selects a victim, he will stalk them for a short period of time before making his presence known. After this occurs, it won't be long before he takes them to his Toybox.