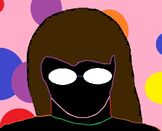 PyroGothNerd
is a user on wikia who began writing the blog series
Eye for an eye
 on her Fear Mythos wiki blog.
She also has made pictures for some of the pages of the wiki, using CGI, MSpaint, and now (after finally figuring out how to use the canner) hand drawn images.
She also admins the Candle Cove wiki, the Slenderman Wiki (and it's sister wikis), the Butterfly Valley wiki, and the Evil Con Carne wiki.
Created
Series
Gallery
Ad blocker interference detected!
Wikia is a free-to-use site that makes money from advertising. We have a modified experience for viewers using ad blockers

Wikia is not accessible if you've made further modifications. Remove the custom ad blocker rule(s) and the page will load as expected.