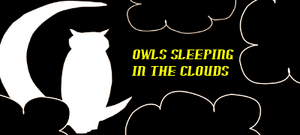 Owls sleeping in the clouds is a Cloudverse blog written by Kiro Cloudwatcher that can be read here.
It features a girl named Alicia, who initially starts her blog to talk about her dreams, at the request of her psychologist, Dr. Jim Witfeld. However Alicia quickly gets involved with many Fear-related troubles (including encounters with the Slender Man, the Intrusion, the Cold Boy, and EAT).
It also had a companion blog, Cats pouncing on sleeping owls. 
Crossover
The blog has a brief crossover with the Slender Man blog Endless Corners in which it's protagonist, Mr. Incognito escorted Alicia across the country and helped her escape the Intrusion.
Ad blocker interference detected!
Wikia is a free-to-use site that makes money from advertising. We have a modified experience for viewers using ad blockers

Wikia is not accessible if you've made further modifications. Remove the custom ad blocker rule(s) and the page will load as expected.