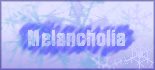 Melancholia is a blogpasta written by Moomin. It tells the story of Blake Parker as she deals with her isolation and depression. That is, until she is visited by an "angel" called Melancholia, who offers her salvation from her miserable life. It can be read here.
Ad blocker interference detected!
Wikia is a free-to-use site that makes money from advertising. We have a modified experience for viewers using ad blockers

Wikia is not accessible if you've made further modifications. Remove the custom ad blocker rule(s) and the page will load as expected.