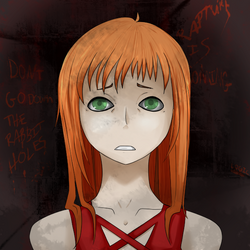 Donnivan "Donnie" Rand
is one of the six main protagonists of
OH GOD THE RAPTURE IS BURNING
.
She is seventeen and British, and she is a frequent subject for the Fears' hate. Donnie starts the story out wanting to visit her significant other in Nebraska, US, but as the story progresses, she grows much less certain of her goals, as well as of her fate. Donnie grows attached to Bones as the apocalypse rages on, only to ultimately be killed in Xanadian Cornwall by the Masked Massacrer-- taking the form of Jordan himself. She dies searching for peace of mind.
Among the Fears, she is referred to as "Victoria." Her weapons of choice are a frying pan and a steel baseball bat.
Gallery
Ad blocker interference detected!
Wikia is a free-to-use site that makes money from advertising. We have a modified experience for viewers using ad blockers

Wikia is not accessible if you've made further modifications. Remove the custom ad blocker rule(s) and the page will load as expected.