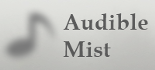 Audible Mist is a blog set in the Main Cloudverse and is written by Kiro Cloudwatcher. It has been accidentally deleted and can no longer be read.
Plot
This blog follows Victoria, a popular high school girl, as she tries to deal with her paranoia. She writes about certain events in her past that caused this paranoia. However she soon starts experiencing weird things when the Choir makes her its victim and slowly breaks down her sanity.
Important characters
Victoria: A popular high school girl with paranoia issues.
Lisa: Victoria's former childhood friend. She caused Victoria's paranoia by trying to kill her when they were eleven year old girls.
Kat: Victoria's other former childhood friend. Not the smartest girl around but very kind.
Ad blocker interference detected!
Wikia is a free-to-use site that makes money from advertising. We have a modified experience for viewers using ad blockers

Wikia is not accessible if you've made further modifications. Remove the custom ad blocker rule(s) and the page will load as expected.